I am SO excited to participate in "Bloggers Do It Better".
It is actually the FIRST time I am linking up to anything in the blogosphere! Crazy, HUH?!?!
Thanks to my bloggy friends; The Frugalista Diaries, The Stylish Housewife and Real Girl Glam, for letting me know about this month's assignment, Neon and Neutrals. If you haven't read Pretty Shiny Sparkly then you can catch up on how to be a part of Bloggers Do It Better!
Since I am on my "first" link up day I decided to LINK up to Fashion Fridays over at Blonde Episodes too! She blogged about my man, Marc Jacobs, and since I am carrying my MJ clutch I knew it was meant to be :)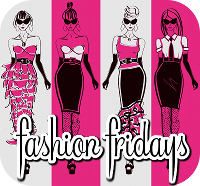 This outfit was actually inspired by Jenn's FIRST outfit (she wore two and let her readers help her out). I loved that I had a reason to wear my neon peach maxi skirt, with my electric blue heels and my neon pink clutch. I went all out with the neon (if you look closely my bra even joined in on the fun) and used my white top as my only neutral color. I like how the outfit turned out AND photographed.
Shoes: Jessica Simpson 'Tookie' (no longer available)